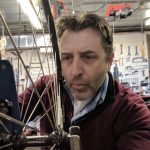 We want to send out a BIG THANKS to all of you who have been so encouraging and helpful to our bike shop. "The Bike Guy" bike shop is nothing short of a community project; there has been a ton of participation and continual patronage from our neighbors. THANKS everyone!
In 2010 we started out in a rented garage. After three years we moved into our current building and have now been in our current location for four and a half years.
The primary focus of The Bike Guy is to serve the cycling community on and around the Neuse River trail. Our shop is SERVICE STRONG but we also offer bikes for sale and we have dozens of bikes for rent as well.
Riding rental bikes on the Neuse River Trail is one of Raleigh, North Carolina's main attractions and we are the place to rent. The greenway begins at our front door and follows the Neuse River for thirty seven miles, all the way to the next county. It continues through over 137 miles of paved bike trails and keeps getting longer all the time.
We are also the local shop for recumbent bikes and trikes. We carry Catrike, Terratrike, ICE Trike and Sun recumbents. We also are the recumbent service shop in this area.
Tune Ups are something we spend a lot of time on. We service every kind of bike -all categories and all levels of bike, trike, recumbent, tandem or whatever rolls through the door. Everything from beginner to pro level bikes come through our shop for tune ups and maintenance. But we couldn't do it without our community!
Thanks to all! We look forward to many rides.
See you on the trail!